NativePath – Collagen Protein Powder – 8.82 Oz. – 25 Servings – 25
---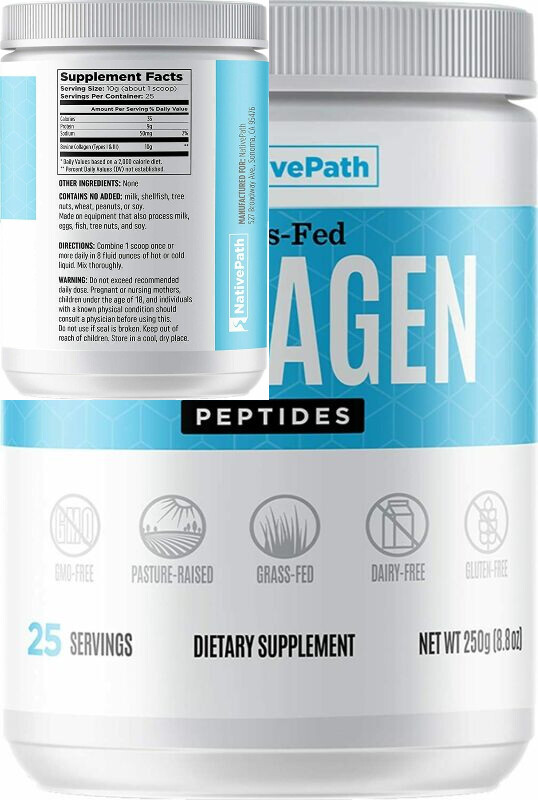 ---
Product Information
---
Features:
– HIGHEST-QUALITY AND PURITY: Get 10 grams of the most digestible and beneficial collagen peptides (type 1 and type 3) sourced from high-grade, pasture-raised cattle, and more readily absorbed by the bloodstream than gelatin and regular collagen.
– VIBRANT SKIN, NAILS, AND HAIR: Restore your healthy glow with this convenient hydrolyzed collagen that promotes a wrinkle-free complexion, long hair, and strong nails!
– REV UP YOUR YOUTHFUL VITALITY: Help revive optimal levels of collagen production for lean muscle, faster metabolism, healthy digestion, and pain-free bones and joints.
– NO JUNK, JUST NUTRIENTS: An organic source of collagen without common additives, fillers, and poor quality substitutes, it's Paleo approved, Keto-friendly, GMO-free, Dairy-free, and Gluten-free.
---
Product Details:
– Is Discontinued By Manufacturer : No
– Package Dimensions : 5.8 x 4 x 3.5 inches; 8.01 Ounces
– Manufacturer : NativePath